For the month of June, do not hesitate to contact me, availability will depend on the covid situation
Villa Athanaze,
Bed & Breakfast in St Malo
Built in 1900, the villa has an authentic and serene atmosphere thanks to its luminosity, its authentic parquet floors and tastefully chosen furniture. Take time to relax inside the garden, enclosed by old walls, or in the living room ; the latter is entirely yours.
A moment out of time in this charming house on the Emerald coast at calm, where we feel good, with your partner, your family or friends… As good for a stay as for a trip : a lively and serene house, a stone's throw away from the sea, the old town and little local restaurants.
The delicious breakfast is served in the living room, the dining room or in the garden. It comprises the best local and organic products.
From this peaceful place, it is easy to discover the corsair city and its surroundings : the magic medieval walls, the splendid Sillon beach and the wild beaches, the most changing lights of breton sky and sea, the breathtaking sunsets, the impressive spring tides, the malicious climate…
Fair trade towels, organic hygienic and maintenance products, welcome tray.
A beautiful mansion built in 1900 offering guest rooms and located in the charming historic area of Saint-Servan. The Villa Athanaze's charm lies in its luminosity, its authentic parquet floors and its tastefully chosen furniture. The house keeps the charm and soul of its age.
Take time to invest the place during a stay at this guesthouse in Saint-Malo. Relax in the Villa's garden enclosed by old walls, as well as in the peaceful, resourcing living room that is entirely yours so you can fully enjoy your stay.
Five rooms are able to welcome you. Each of them has its own universe while keeping the authentic and warming wooden spirit. Just discover and contemplate them to make your choice.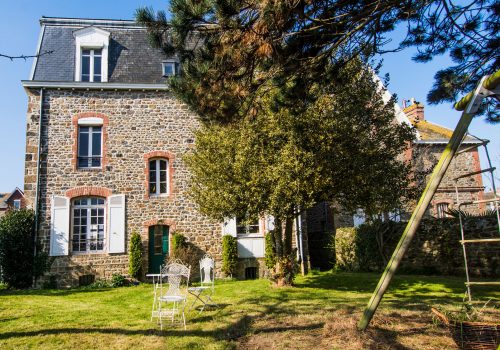 We are delighted to propose for your stay a pretty tree-filled garden. It will offer you the opportunity to fully enjoy peaceful and relaxing moments.
The garden is shady by trees and is run alongside by old walls : it is perfect for you well-deserved breaks… Alone, with your partner, your friends or your family, you will spend in this garden some of the most beautiful and memorable moments of your stay.
We provide you some garden tables and sun loungers so you can enjoy for a moment : our beautiful days, the Villa's peacefulness away from the crowd, this serene space inviting you to relax. During spring and summer weather, the garden is very pleasant : its flowers and birds will take you away from any worry… You will enjoy savouring your breakfast at calm in this garden, if the weather allows it…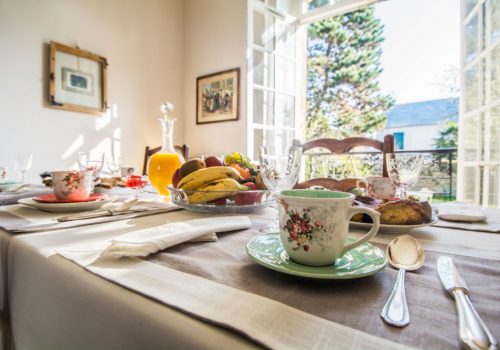 It is an important time of the day ! Nicely dressed tables, china and silverware, tablecloths and napkins, everything is ready so you can enjoy it peacefully in this Guesthouse in Saint-Malo. This breakfast is served in the dining room on a large table, or in the living room on three small, spaced out tables to enjoy a little privacy. 
Of course, we will be delighted to serve you this delicious meal in the garden if the weather allows it.
The breakfast is provided with local products : different kind of fresh breads and brioches from the bakery "Chez Mamie", Bordier Butter, Raphaël marmelades, seasonal fruits from Saint-Servan's market, fruit juices form the "Maison Sorre" and honey from the "Abbaye des 11 écluses" region. Coffee, milk, chocolate and sugars are organic. Dammann teas.